Commercial interest in carbon management technologies and projects is growing rapidly, with nearly 90 publicly announced projects throughout the United States. More than 70 percent of the announced projects intend to store captured carbon dioxide (CO2) deep underground safely and permanently in saline geologic formations. As more projects ramp up, the need for expanded permitting capacity by federal and state authorities could dramatically increase.
Here are a few key takeaways on federal and state needs for geologic storage permitting capacity:
Federal and state authorities ensure safe and permanent geologic storage in saline formations through the US Environmental Protection Agency's Underground Injection Control Program for Class VI injection wells.
Saline geologic formations are essential to successfully deploying carbon management technologies needed to meet US and global climate goals.
Federal and state efforts underway can provide key support for project deployment, including to expand the capacity of federal and state authorities to permit geologic storage in saline formations.
Recent federal investments in carbon management and industrial decarbonization through the Infrastructure Investment and Jobs Act mean that these nascent industries will have a very near-term opportunity to scale commercial projects, associated infrastructure, and geologic storage.
Large-scale carbon management is needed to meet midcentury global temperature targets, including through carbon capture retrofits of industrial facilities and power plants, and direct air capture facilities. In the Intergovernmental Panel on Climate Change's 1.5°C scenarios prepared by the world scientific community, carbon management and storage technologies account for up to 12 gigatons of negative emissions annually by midcentury.
US has vast capacity to permanently store CO2 in secure geologic formations
The US Department of Energy (DOE) Carbon Storage Atlas details carbon capture and storage potential across the country. GPI researchers used this DOE data to map and understand the opportunities for geologic storage associated with carbon management project deployment.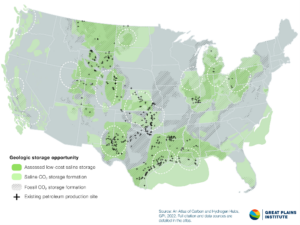 Our recently released Atlas of Carbon and Hydrogen Hubs illustrates the potential opportunities in regions across the country for locating carbon capture and direct air capture. The opportunities are in areas with existing saline storage capacity to achieve emissions reductions at climate scale while minimizing transport costs, land use, and local impacts.
Regulatory and permitting programs essential to scale geologic storage opportunities
The federal Environmental Protection Agency (EPA), through the Underground Injection Control (UIC) Program, regulates more than 740,000 injection wells in operation across the United States to ensure the safety of underground sources of drinking water. The EPA administers the UIC program through work with states, tribes, and local officials.  There are two primary UIC well classes that cover CO2 injection projects, Class II and Class VI.
Class II wells are used to inject fluids (e.g., CO2 and brine) associated with oil and natural gas production. Geologic storage of CO2 in such operations can be incidental, meaning that permanent storage of CO2 can occur in the context of injection undertaken principally for other commercial purposes. The EPA estimates that more than 180,000 Class II wells are in operation across the United States and that over 2 billion gallons of fluid are injected underground each day.
Class VI wells are used to inject CO2 into deep geologic formations solely for the purpose of permanently storing CO2, which is often referred to as dedicated storage. EPA established this well class separately from Class II to provide specific regulations for projects where the purpose is dedicated geologic storage. EPA tailored Class VI program rules to address the permanent storage of CO2 and ensure that wells are appropriately sited, constructed, tested, monitored, funded, and closed once injection activities are completed.
Class VI primacy: The role of states in UIC program implementation
EPA can grant primary enforcement authority—referred to as primacy—to individual states, territories, or tribes, which delegates authority to administer certain well classes in the UIC program in accordance with federal standards. Importantly, states, territories, or tribes can be approved for this delegation of primacy only when their regulations meet or exceed the federal UIC requirements.
Class II program implementation has been delegated by EPA to many states, with EPA retaining primacy for all remaining states. Class VI program implementation has been delegated by EPA to only two states so far—North Dakota and Wyoming. The State of Louisiana's Class VI primacy application is under review at EPA in the "completeness determination" phase of the application process. Arizona and West Virginia are listed as being in the "pre-application" phase.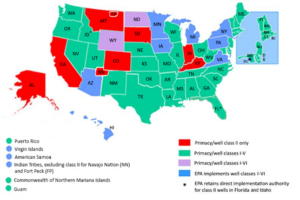 To date, EPA has permitted two Class VI wells, and well permit applications for an additional four wells are pending. The State of North Dakota has issued two permits for Class VI wells, and additional well permit applications are pending.
Additional resources needed for Class VI permitting at federal and state levels
Increasing the capacity at EPA to permit Class VI wells and review state Class VI primacy applications in a timely manner will be critical to economywide scaling of carbon capture technologies and meeting midcentury climate goals.
Of the 84 carbon capture projects that have been publicly announced in the United States, 72 percent have declared their intent to store CO2 in saline formations and will require Class VI well permits. Additionally, the EPA reports that it has received more than 50 inquiries regarding Class VI well permits.
GPI also surveyed states about the UIC Class VI program last year to better understand challenges with the primacy application process and gather foundational information about carbon capture projects at the state level. This memo detailed the survey results and was provided to EPA UIC program officials to help inform a Class VI Report for Congress (as required by 2020 legislation). When asked what is most needed to bolster the federal UIC program and related state-administered UIC programs to ensure adequate and timely review of Class VI permits, 77 percent of respondents indicated that state UIC programs need additional funding. Other needs include additional funding for federal staffing, state staffing, training, education, and EPA regional staff, with many respondents indicating that funding was needed across these items.
Federal funding, reports underway
Fortunately, Congress has passed and is considering legislation to support carbon management technology development and project deployment, including efforts to support permitting of geologic storage. The 2020 Energy Act required a cross-cutting, inter-agency report on carbon capture, utilization, and storage to be submitted to the Congressional Committees on Environment and Public Works, Energy and Commerce, and Natural Resources and Transportation by the Chair of the Council on Environmental Quality (CEQ).
The CEQ compiles information on all relevant federal permitting and reviews information and resources for agencies, project applicants, and other stakeholders interested in the deployment and impact of carbon capture, utilization, and storage projects and CO2 pipelines. Additionally, the CEQ Chair is responsible for submitting guidance to all relevant agencies to support their efficient, orderly, and responsible development of carbon capture, utilization, and storage projects and CO2 pipelines. The CEQ released its report in June 2021.
The CEQ Chair must also establish at least two regional task forces to do the following:
Identify successes and challenges faced by developers and operators of carbon management projects and CO2 pipelines
Make recommendations to improve the permitting and regional coordination for efficient, orderly, and responsible development of such projects
In addition, the CEQ report referenced several relevant Congressionally mandated reports (some published and some forthcoming), described below.
Department of the Interior, Environment, and Related Agencies Appropriations Act, 2021 (Division G):
A report to Congress on recommendations to improve the Class VI permitting procedures for geologic storage
USE IT Act (Division S):
A report to Congress on deep saline formations focusing on the risks and benefits of geologic storage with recommendations for risk management and mitigation
A National Academies of Sciences, Engineering and Medicine study to assess the barriers and opportunities relating to the commercial application of CO2
Energy Act of 2020 (Division Z):
A National Academies of Sciences, Engineering and Medicine study to assess any barriers and opportunities relating to commercializing carbon, coal-derived carbon, and CO2
A Government Accountability Office report on the successes, failures, practices, and improvements of DOE in carrying out commercial-scale carbon capture demonstrations (completed)
A report to Congress on the DOE carbon capture technology program
A report to Congress that assesses the progress of all regional carbon sequestration partnerships, identifies the remaining challenges in achieving large-scale geologic storage, and creates a roadmap for geologic storage
A report to Congress examining the opportunities for research and development in integrating blue hydrogen technology in the industrial power sector, and how that could enhance the deployment and adoption of carbon capture, utilization, and geologic storage
A report to Congress on CO2 removal methods
While fiscal year (FY) 2022 started in October 2021, negotiations over the FY22 appropriations cycle remain ongoing in Congress. Members of Congress are currently considering a third stop-gap measure this year to avoid a lapse in government funding and fund the government through March 11. However, leaders in both chambers are reportedly very close to finalizing topline numbers for an omnibus package—a package containing all 12 of the appropriations bills for the fiscal year—but they will need additional time to draft the package. The House of Representatives released a mark-up last spring that included $4 million in funding ($1M increase over the FY21 level) for the Class VI program at EPA. The House report language also specified that the EPA should work to review primacy applications "expeditiously" and directly implement the regulation as soon as possible.
On February 15, 2022, the Biden administration released a fact sheet announcing a suite of actions to advance industrial decarbonization efforts across multiple agencies, including carbon capture, removal, transport, utilization and storage. As part of the announcement, the White House Council on Environmental Quality issued interim 'Carbon Capture, Utilization, and Sequestration Guidance' that was mandated by the 2020-enacted bipartisan Utilizing Significant Emissions with Innovative Technologies Act (USE IT Act).  The comment period on the interim guidance is open through March 18, 2022.
On November 15, 2021, President Biden signed the historic bipartisan Infrastructure Investment and Jobs Act (IIJA) into law. This mammoth piece of legislation does much more than just rebuild America's roads and bridges. The IIJA includes $12 billion over five years for carbon management, including:
unprecedented funding for commercial demonstration of carbon capture, direct air capture, and carbon utilization technologies,
the development of four direct air capture hubs, and
foundational investments in the buildout of regional CO2transport and storage infrastructure with the inclusion of the bipartisan Storing CO2 and Lowering Emissions (SCALE) Act in its entirety.
The SCALE Act provisions enacted through the IIJA include funding for geologic storage permitting at $25 million during FY22-26 and $50 million during FY22-26 for state permitting program grants.
Effective implementation of these modest but vital permitting resources could be transformative. These resources can provide the adequate federal and state permitting capacity required for a critical mass of carbon management projects to move forward over the next decade. Enabling deployment at scale would ensure that the far greater federal investments in the infrastructure bill and the 2018 bipartisan reform and expansion of the federal 45Q tax credit achieve their full climate potential.
States Cooperating to Align Frameworks for Infrastructure and Storage
States are also identifying how to advance policies and regulatory frameworks that support carbon management deployment. In October 2020, eight states—Kansas, Louisiana, Maryland, Montana, North Dakota, Pennsylvania, Oklahoma, and Wyoming—entered into an MOU and committed to establishing and implementing a regional CO2 transport infrastructure action plan. The MOU states released the action plan in October 2021, which discusses the critical role that states can play in supporting the development, permitting, and financing of carbon management projects and facilitating the broader development of large-scale regional carbon and hydrogen hubs by establishing and clarifying enabling statutory and regulatory policies. The states noted that while these policies do not carry a significant price tag, they are essential to:
providing regulatory and financial certainty for project development, and
creating the confidence for multiple private sector actors to proceed jointly with project and investment decisions across the entire capture, transport, utilization, and storage value chain.
This clarity is especially important in the realm of geologic storage. Signatory states plan to continue working on carbon management policies and initiatives that support the deployment of CO2 infrastructure and geologic storage.
This blog was originally published by Great Plains Institute.